M&J Gourmet is more than a shop. It's a place to receive kindness, be blessed and enjoy yourself.
Upon walking in the door, we will greet you warmly and be available to offer you one-on-one service should you choose it.
   M&J Gourmet serves the Upper Perkiomen Valley by meeting the needs for good quality, artisan and local foods, premiere chocolate and specialty candy. 
We specialize in handmade, customized gifts and gift baskets, chocolate and candy trays & bouquets, and favors for weddings, showers and other events.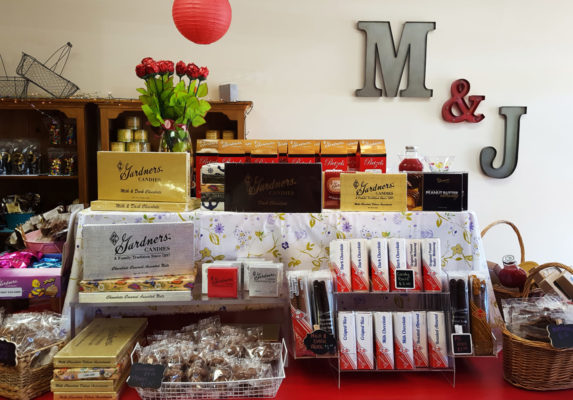 Local maple syrup: Grade A & B (harvested 5 miles from the shop)
Local, raw honey & creamed honey with added ingredients (vanilla bean, turmeric, ginger, cinnamon, etc), bee pollen
Locally roasted coffee (roasted in the same town as our shop): responsibly sourced and some organic available
Olive oil (plain & infused): sourced directly from farms in Italy & other olive oil producing countries
Vinegars: fruit & balsamic (sourced from Modena, Italy)
BBQ & Grill Sauces: all natural ingredients
Meat Rubs & Marinades
Hot Sauces: small batch, produced only with fresh ingredients
Meal Starter Sauces: all natural ingredients, many gluten free
Italian Sauces, Pestos, Bruschetta Spreads
Handmade Pasta
Olives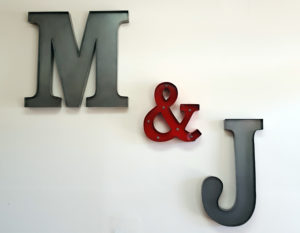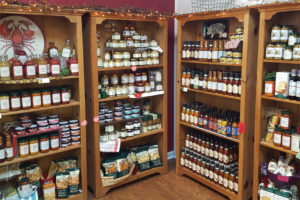 Tea: high quality Looseleaf & Bagged Teas
Tea pots & infuser travel mugs
Handmade in PA Gourd decorations: some lighted
Other home décor, such as locally handpainted wine glasses & mugs, platters, plates, bowls (seasonal)
Wide variety of high quality chocolates & truffles, candy bars, chocolate covered pretzels, etc (most produced in PA)
Vermont Nut Free chocolate, chocolate chips, cocoa powder
Locally produced toffee popcorn in a variety of flavors
All natural Moravian, shortbread and sugar cookies
Large assortment of vintage & novelty candy, bulk packaged gummies and other hard to find candies
Sugar free chocolates
All natural dips, crackers, mustards, pretzels, salsas and many other snack items (many gluten free)
Jams, jellies, preserves, curd & aiolis: all natural ingredients
Peanuts, cashews & other nut mixes
Testimonials
"I had the pleasure of working with Kirstin and M&J Gourmet in December 2015 when ordering a variety of holiday baskets. From the initial visit, Kirstin was very professional, friendly and helped me figure out the best gift options based on size and price point. She even assembled a variety of sample baskets for me to see prior to submitting a formal order to make sure I was fully satisfied with the product. The baskets were stunning and well-received. If you are looking for unique gifts of excellent quality, I absolutely recommend M&J Gourmet!"   – Lindsey Rich, MBA, Community Liaison – St. Luke's Home Health & Hospice
About The Owner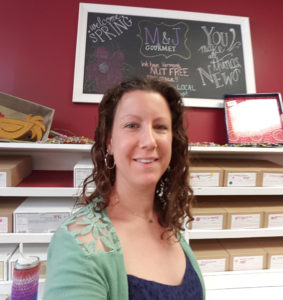 M&J Gourmet Owner, Kirstin Nice
Kirstin Nice opened M&J Gourmet in June of 2015 with a passion in her heart to provide her hometown with the tastes and flavors of the high quality foods she loves.
She saw a need for a shop to provide these goods and is seeking every day to meet this need!
She loves to create new gifts and gift basket ideas, source new and natural foods to sell to her customers, and enjoys meeting new people every day! 
She welcomes the input of her customers and seeks to bring their dreams and wants to life. She has a husband and 2 young sons, and lives in Perkiomenville.