2022 M&J Gourmet Holiday Gift Giving Guide Now Available!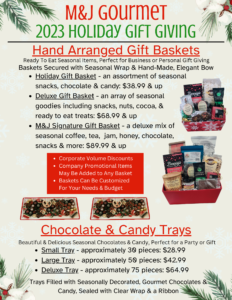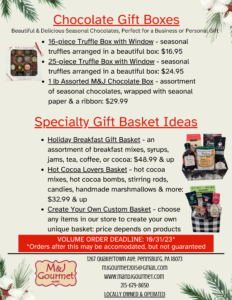 At M&J Gourmet, we offer unique, customized gift baskets, bags and arrangements. We creatively design gifts that fit your budget and the recipient's preferences. We offer shipping services to anywhere in the US.
Check out our many options or "Create Your Own"….including our Breakfast Lover's gift basket with specialty coffee or tea, jams, syrups & mixes. Our Comfort Basket is for nurturing and healing with teas, chocolates, soup and crackers. Surprise your loved one with a Date Night Dinner gift basket or choose our Seasonal Basket loaded with seasonal goodies, or our Taste of PA Basket filled with local, tasty treats!
Gift Baskets
Gift Baskets are priced to order and we work with any budget. Give us your budget and ideas and we will create a beautiful, custom gift!
* Breakfast Lover's….an assortment of jams, pancake mixes, syrups, teas, and/or coffees focused on your recipient's likes
* "Man" Gift….for any special man in your life; possible themes include spicy foods, grill items, or any taste your man prefers
* Date Night Dinner Gift Basket….surprise your loved one with a gift of easy to cook meal items, hors d'ouevres, & specialty chocolate
* Taste of PA Basket….love local foods? A selection of local and PA-made chocolates, snacks, popcorn, coffee, honey & maple syrup
* Welcome Baby….congratulate with a basket of chocolates, snacks, and/or meal starters to provide quick nourishment for new parents
* Comfort Basket….nurture those who need comfort and healing with chocolates, candies, teas, soups and crackers
* Afternoon Tea….choose from our high quality loose leaf or bagged teas, scone mixes, snacks, cookies, crackers, and jams
* Hostess or Party Gift….a selection of ready to serve gourmet food, salsas, nuts, drink mixes, & more…include a hand-painted wine glass to show your appreciation
* You Pick/ "Create Your Own"….you pick the items and we package them beautifully
* We Pick….you give us a theme and we will choose our favorites
* Seasonal Gift Basket….a holiday themed basket of chocolates and snacks for any time of year: Valentine's Day, Thanksgiving, Christmas, 4th of July, Easter, or any day you like
* Italian Gourmet Gift Basket….perfect for a new neighbor, co-worker or friend; may include pasta sauces, artisan pasta, pesto, spreads, and dessert
* Birthday or Anniversary Gift….a unique way to honor special people in your life with gourmet chocolates, sauces, candies, or foods of your choosing
* Welcome Gift, New Neighbor or New Home Gift….welcome or congratulate with a mix of delicious , all natural meal starters, sauces, chocolates, and snacks (add your own wine or champagne if you like!)
* Chocolate and/or Candy Lovers….a mix of our best chocolate or candy with snacks that fit the theme
Trays
M&J Gourmet creates customized chocolate & candy trays for weddings, showers, parties and gifts. Packed with an assortment of fine truffles and chocolates, and candies to your liking, these trays are a crowd pleaser. Add a beautiful touch to your event dessert table with our specialty truffles, designed with seasonal pictures or designs, and our unique hand-made, hand-painted fudge bars. Choose a disposable tray or one of our beautiful ceramic trays to include as a gift to your recipient.
Favors
M&J Gourmet also specializes in favors for showers, parties, gifts and celebrations of any kind. We will meet with you to discuss your needs, and offer a variety of options from which to choose. From molded chocolates to beautifully packaged truffles, chocolate bars or boxes with custom printed labels and designs, we can truly meet your needs and offer creative suggestions.
Contact Us Today To Discuss Your Gift Giving Needs! – 215-679-8650 or fill out our contact us page form.  We look forward to serving you!